Catherine Mulvale Surviving Strep-Strategies for Life Lectureship
In June of 1996, Catherine Mulvale was a young, healthy mother of two focused on family and her growing business. One morning she woke up with back pain and flu-like symptoms. Her condition rapidly worsened. After three days, she was told she had necrotizing fasciitis and toxic shock and given a 10% chance of survival.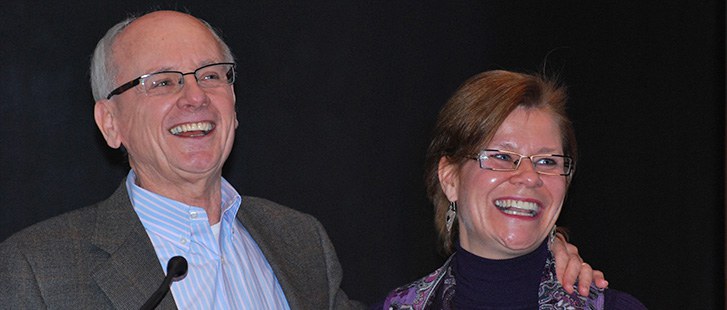 Donald E. Low and Catherine Mulvale (from left to right)
After 5 weeks and 8 operations to remove 11 necrotic muscles and half of her scapula, she recovered her health. At the time, TIBDN was almost 5 years into our long-running group A strep study.
Cathy switched her focus to the not for profit sector after her ordeal.  She first founded "Surviving Strep – Strategies for Life" to help protect others from invasive GAS.  Over 10 years, this national not-for-profit raised over $480,000.  These funds were given over to support the GAS Study Group and develop the "LIFE Guide" – a resource for the public on Group A Strep infections.
Cathy now shares her creativity and leadership skills with several local, national and international charitable organizations.  Cathy has helped develop and support health-related foundations including the Canadian Foundation and International Center for Infectious Diseases, the Orphans Foundation Fund, and the Canadian Digestive Health Foundation.   Through Strategies for LIFE she has built an orphanage in Tanzania, a school in Uganda and supported many programs for orphans and vulnerable children. She has raised over $7 million and is respected for her ability to develop innovative programs which attract funding, provide meaningful benefits to supporters and, improve quality of life for people affected by disease and the hardships of unfortunate circumstance.  Far from killing her, Cathy's brush with NF and STSS have made her stronger. 
Cathy fully appreciates the work of the researchers, physicians and nurses who collectively made it possible for her to "beat the bugs".  It is in their honour that she makes the most of every waking moment.  In a recent note to Dr. Donald Low, she says, "I now live each day as I did the moment I met you – not knowing if I would live a few hours or indefinitely."  Cathy hopes the funds provided by Strategies for LIFE allow others to experience the absolute joy and privilege of being able to greet each day healthy, inspired and very much alive.
2008  "The emergence of M59 group A strep in Canada"
Gregory J. Tyrrell, PhD, FCCM (ABMM)
Medical Microbiologist, Alberta Provincial Public Health Laboratory, Edmonton, Alberta (formerly Director, National Center for the Streptococcus, Edmonton, Alberta)
2008  " Treatment and Outcomes of Severe GAS Infections"
Louis Valiquette, MD FRCPC, MSc
Associate Professor, Faculté de médecine et des sciences de la santé, Université de Sherbrooke, and Centre hospitalier universitaire de Sherbrooke, Quebec
---
2009 "Genome Analysis of  Group A Streptococcus Epidemics"
James M. Musser, MD, PhD
Director, Center for Molecular and Translational Human Infectious Disease Research, The Methodist Hospital Research Institute, Houston, Texas
---
2010 "Phagocytes & Streptococci: Immune Defense or Pathogenic Mechanism?
Anna Norrby-Teglund, MD, PhD
Professor, Karolinska Institut, Center for Infectious Medicine, Karolinska University Hospital, Huddinge, Sweden
---
2011  "Virulence Factors in Group A Streptococcal Disease"
Randall J. Olsen, MD, PhD
Director, Molecular Diagnostics, The Methodist Hospital, Houston, Texas
---
2012  "Whole-Genome Sequencing Analysis of a Continuing Group A Streptococcus Epidemic"
Nahuel V. Fittipaldi MSc, PhD
Scientist, Public Health Laboratory, Ontario Agency for Health Protection and Promotion, Toronto, Canada