Surveillance population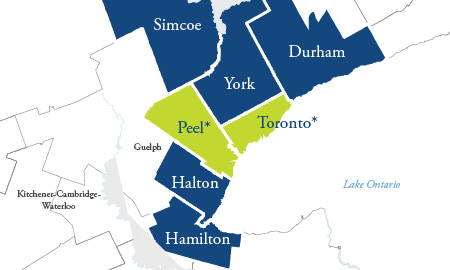 Surveillance area for population based surveillance is Metropolitan Toronto and the Region of Peel (population ~4 milion). In addition, hospitals and laboratories in the 5 surrounding regions (Halton, Hamilton, Durham, Simcoe and York) also report to the study enabling us to identify cases from our defined population area that may be admitted to hospitals in other regions. Additional cases from these regions are included when research questions do not require a defined population base and increased sample sizes are beneficial.
Participating TIBDN areas
Populations were retrieved from Statistics Canada, based on census year 2006.
Area
Total population
Less than
2 years old
2 - 64 years old
Greater than or
equals to 65 years old
Toronto*
2,753,131
59,724
2,312,974
380,433
Peel*
1,364,357
31,792
1,193,213
139,352
Hamilton
   540,012
11,121
   446,495
  82,396
Halton
   516,336
11,826
   437,029
  67,481
Durham
   630,206
13,833
   541,875
  74,498
York
1,064,385
23,200
   918,129
123,056
Simcoe
   463,882
  9,074
   384,994
  69,814
*Population base for surveillance